Mens Womens Watches For Sale
Patek Philippe 6102P-001 Sky Moon Celestial In Platinum 44mm with Date Complete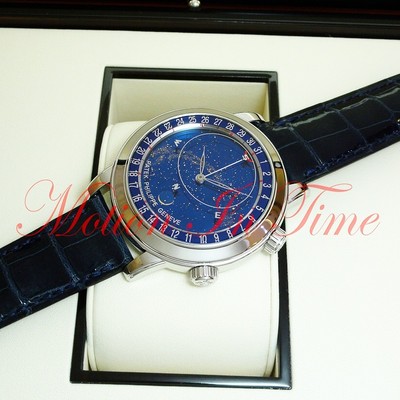 Motion in Time, Inc.
Super Exclusive & Extremely Rare
EXTREMELY RARE & SUPER COLLECTIBLE
Patek Philippe Grand Complications
Celestial Sky Moon in Platinum 44mm with Date
Latest Release from Patek!!!
Rare Model --- "A True Work of Art"
* * You WILL NOT See Many of These Around! * *
EXCLUSIVE MANUFACTURED TIMEPIECES
"Literally Speaks for Itself"
Complete with Box & Papers Manual, Certificate, Pusher Stylus, Patek Philippe Seal that came with the watch, Press Box, Big Leather Wallet.
Reference No. 6102P-001
RETAILS FOR $329,600
BUY IT NOW FOR $294,995
OR MAKE AN OFFER!!
Watch Description
Exotic - Rare - And Absolutely Breathtaking! Super Exclusive Grande Complication from Patek Philippe.
A powerful & striking watch - will definitely draw attention & makes for a great conversation piece.

This watch features:
ONE OF THE RAREST!!!!
No doubt - One of the most sought after Patek Philippe watches ever released.
The latest and rarest Release from Patek Philippe..... Now in a Larger 44mm case and features a date. This is Patek Philippe's Latest Creation which bears their own new "PP" Seal Movement which is engraved on the back.
The Patek Philippe brand offers watches of the highest quality matched with incredible style.
The Patek Philippe Celestial is a very special timepiece. Introduced at the Basel Fair, the Celestial depicts the night sky as it appears over Geneva Switzerland. The astronomical display utilizes a system of rotating sapphire plates, which turn at different speeds and are layered, to reproduce the relationships of the various celestial bodies at various times. The watch also indicates moon phase. Patek Philippe reports calculating 25 trillion "ratio combinations" to arrive at the most accurate possible system for measuring the movement of the stars. I could go into the mechanics of the watch, but suffice to say that building a mechanism to animate such an amazing cosmological microcosm was a feat uniquely suited for Patek's master watchmakers.

Case is solid Platinum with dimensions of 44mm wide by 10mm thick. The case sides are embossed with the Calatrava Cross, to very nice effect. Sapphire crystals front and back. Crown at 2 o'clock sets the time and winds the watch. The crown at 4 o'clock is for setting the astronomical display.

Dial is blue and displays the aforementioned information. There is an elliptical window which is marked with the cardinal directions for orienting the celestial display to true north. There is a roman numeral elaborated minutes and hours chapter at the dial's edge. Skeletonized "Feuille" style hands.

Movement is the automatic winding Patek Philippe Caliber 240 LU CL with 45 jewels and 301 individual, hand-finished parts. Every tooth, on every gear wheel, was hand polished on a rotating hardwood disc.

The Celestial is one of Patek's many crowning achievements. Production is very low.

- This watch now features a date: The outer ring indicates the date by hand which is shaped as a half-moon.

- This is a magnificent watch, notwithstanding the Platinum case.
- The dial appears to have taken a swath of the night sky & captured it forever on the dial.
- This is another superb example of Patek Philippe's extraordinary skill & sense of design.
- The deep blue star-scattered dial has:
three metalized sapphire-crystal discs as well as an ellipse framing the portion of the sky visible from Geneva.
- There is a sky chart with phases and orbit of the Moon.
- Sapphire crystal case back.
- Mechanical self-winding movement Caliber 240 LU CL C with a 48 hour power reserve & bearing the Patek Philippe Seal.
- Shiny navy blue alligator strap with platinum deployment buckle.

Patek Philippe astronomical Grand Complication, presents several functions that are exceptionally uncommon in a wristwatch. It permanently showcases the heavenly canopy over the northern hemisphere, emulating the apparent movement of the stars as well as the positions and phases of the moon in the course of a lunar cycle. This fascinating celestial ballet is choreographed by the self-winding caliber 240 LU CL C movement, which despite its complexity is only 6.26 mm high. The astronomical indications are complemented by a central date hand that points at the date scale on the outermost periphery of the sapphire-crystal.

Celestial mechanics
To implement the fascinating vision of a moving nocturnal sky, Patek Philippe developed a system of superposed sapphire-crystal disks that rotate at different speeds and convey an amazing impression of depth. The background is provided by a blue sapphire-crystal disk in a wheel with 279 teeth; it tracks the orbital position of the moon. Via a planetary gear system, it also drives a wheel with a small sapphire-crystal disk that displays the moon phases in a small round aperture. A 356-tooth wheel above it rotates a transparent sapphire-crystal disk that depicts the sky chart on the front side and a representation of the Milky Way on the opposite side. The three disks, each merely two tenths of a millimeter thick, are protected by the sapphire-crystal glass, which on the inside features an elliptical contour that frames the portion of the heavens that are visible from Geneva and all other places with the same geographical latitude.

Stellar precision
With this unique mechanism, Patek Philippe has achieved a nearly incredible degree of precision in the astronomical depiction of the heavenly canopy. A lunar day is defined by the time that elapses between two consecutive passages of the moon across a given meridian; on average, it lasts 24 hours, 50 minutes, and 28.328 seconds. A lunation (the period of time between two consecutive full moons) has an average duration of 28 days, 12 hours, 44 minutes, and 2.82 seconds. A sidereal day is defined as the time between two consecutive passages of a fixed star (such as Sirius) across a given meridian; its average duration is 23 hours, 56 minutes, and 4.09892 seconds. To assure correct displays, these deviations from mean solar time require appropriate step-up and reduction gear ratios in the going train that transmits the force from the spring barrel of the movement to the individual astronomical indications. Some of these ratios rely on the accuracy of the moon-phase display versus the sidereal day, others on the accuracy of the sidereal day versus the orbital position of the moon, etc.
Overall, more than 25 billion (25,000,000,000) variations were calculated for the transmission ratio pairings of the going train. From this staggering number of ratios, Patek Philippe picked the optimal set that resulted in the smallest possible deviations for all displays. The outcome of the computations surpassed all expectations:

• The deviation for the lunar day is 0.05 seconds per day, 18.385 seconds per year, or 30 minutes and 38.5 seconds per century.

• For a sidereal day, the deviation is 0.088 seconds per day, 32.139 seconds per year, or 53 minutes and 33.9 seconds per century.

• The moon-phase deviation is 6.51 seconds per lunation.
Caseband (side of case) decorated with halved Calatrava crosses. Watch dial shows the sky visible from Geneva. Skeletonized white-lacquered gold feuille hands. Microscopically accurate star field disc. Sans-serif roman numerals and direction markers.

The central elipse frames the angular part of the sky visible at lattitude 46'20''. Three separate sapphire crystal discs rotate around the dial. The night sky of the Northern Hemisphere rotates counter-clockwise showing the passage of the sky relative to the meridian of Sirius (the brightest star second only to our own Sun). The sidereal day of 23 hours, 56 minutes and 4.09892 seconds is measured by the passage of the fixed star Sirius (indicated on the dial via a special arrow). The waxing and waning of the moon is shown on a secondary dial, displaying both lunation - the time between two full moons, which is on average 29 days, 12 hours, 44 minutes and 2.82 seconds - and the lunar day - the time between two passages of the moon across its meridian, being 24 hours, 50 minutes and 28,328 seconds.

Celestial timepieces have been produced for some time, but none so accurate as the Patek Philippe Celestial. To create a watch that accurately measures moon-phase and solar time, the master watchmakers at Patek Philippe used sophisticated computerization to produce the single precise ratio out of 25 trillion ratio combinations. Just how accurate is this watch? The lunar day is accurate to 0.05 seconds per day, 18.385 seconds per year, or 30 minutes and 38.5 seconds per century. The sidereal day is accurate to 0.088 seconds per sidereal day, 32,139 seconds per year, or 53 minutes and 33.9 seconds per century. The moon phase is accurate to 6.51 seconds per lunation. A remarkable achievement indeed!

One crown at 2 o'clock winds the watch and sets the time, the other at 4 o'clock sets the astronomical indications.

Each watch takes approximately 18 months to complete, and about 35 examples are produced annually. The 301 individual watch parts are hand finished. All steel components are bevelled and polished reducing friction at wheel contact points thereby improving precision. The automatic rotor is made in 22k gold.

This watch features:

Watch:
Celestial with date

Date by hand

Hours and minutes of mean solar time

Sky chart, phases and orbit of the Moon

Dial: three metalized sapphire-crystal discs as well as ellipse framing the portion of the sky visible from Geneva

Strap: alligator with square scales, hand-stitched, shiny navy blue

Fold-over clasp

Sapphire-crystal case back

Water resistant to 30 m

Platinum

Case diameter: 44 mm
Caliber:
Mechanical self-winding movement

Caliber 240 LU CL C

22K gold off-center mini-rotor

Hours and minutes of mean solar time

Sky chart, phases and orbit of the moon

Time of meridian passage of Sirius and of the moon

Date by hand

Jewels: 45

Bridges: 12

Parts: 315

Vibrations/hour: 21 600 (3 Hz)

Power reserve: Min. 38 hours - max. 48 hours

Power reserve: 48 h max.

Hallmark: Patek Philippe Seal
This watch comes with the factory seal, complete with its stylus and original certificate. It literally comes with all the bells and whistles as well as the original Patek Philippe box.
THE GREATEST LUXURY IN LIFE IS TIME....
......... SAVOUR EVERY SECOND
What a great watch!!!!
PLEASE READ OUR ACCEPTED PAYMENT OPTIONS BELOW PRIOR TO BIDDING
· 100% GUARANTEED AUTHENTIC WITH A 2 YEAR EXTENDED WARRANTY!
PLEASE ALSO CHECK OUR OTHER ITEMS...
E-Mail or Call ~ HAPPY BIDDING.


Motion in Time is not affiliated with Patek Philippe & is not an official Patek Philippe Dealer.
Motion in Time, Inc. is not affiliated with Patek Philippe, or any other watch company, and is not an official Patek Philippe Jeweler. Patek Philippe warranty no longer attaches. Motion in Time, Inc. is the sole warrantor of these watches. Motion in Time, Inc. is not affiliated with any watch maker. All watches and watch items sold are preowned.
We do not ship to Indonesia or Malaysia.
CHECK OUR OTHER AUCTIONS FOR MORE GREAT DEALS! (SIGN UP FOR OUR WEEKLY EBAY DEALS)
--------------------------------------------------------------------------
Why Buy From Us?
BID WITH CONFIDENCE!
* Motion in Time is a full-service watch and jewelry store located at 56 West 47 Street, New York, NY 10036 (Between 5th & 6th Avenues).
* Be confident when buying from us ~ We are wholesalers of the world's finest preowned wristwatches and sell brands ranging from Patek Philippe to Movado.
* We are members of the International Watch & Jewelry Guild (IWJG)
* We give an extended two-year warranty on all watches purchased.
* We are located in the Heart of the New York Diamond District in Manhattan. Our main goal is a simple one: "Treat our clients as we would like to be treated ourselves"


----------------------------------------------------------------------------------
Payment Methods:
Credit Cards AND PayPal: We accept Visa/MasterCard, American Express
All International Buyers must inquire with us prior to bidding.
If you have any questions or concerns please feel free to give us a call or eBay message us, we will be more than happy to assist you.
(If paying with Credit Card, you must be within the United States and your billing and ship to address must be the same) - Photo ID is required to process payment
PayPal: PayPal users must be Verified and Confirmed. Regarding PayPal
Payments: We will only ship to the PayPal confirmed address. It is a requirement of PayPal in order to meet their protection policy. By adhering to their safety regulations, we are able to conduct safer business and as a result sell our items at lower prices.
All items shipped within New York State will incur an 8.875% sales tax.
----------------------------------------------------------------------------------
Import duties, taxes, and charges are NOT INCLUDED in the item price or shipping charges. These charges are the buyer's responsibility. Please check with your country's customs office to determine what these additional costs will be prior to bidding / buying. These charges are normally collected by the delivering freight (shipping) company or when you pick the item up; do not confuse them for additional shipping charges. We do not mark merchandise values below value or mark items as "gifts". U.S. and International government regulations prohibit such behavior.
We reserve the right to use the most secure shipping method and/or company to ship your purchase. Calculated shipping and insurance is an estimate only and may not reflect the actual cost of shipping and insurance. Once we have your shipping address, we can give you an exact cost for shipping and insurance. If you would like this information prior to bidding, please contact us.
----------------------------------------------------------------------------------
Return Policy
All sales are final. Please check to make sure that the watch you are purchasing is the make and model which you are looking for. We are here to assist you in your buying process! Under special circumstances and we agree to accept the return of the item purchased, there will be a 10% restocking fee.
The customer is responsible for all freight charges for items returned back to us. We recommend a carrier with a tracking number to verify package delivery. Insurance is highly recommended for the return package.
All returns not accepted will be mailed back to the customer, at the customer's expense, via fully insured overnight shipping.
The shipping charges both ways is covered by the purchaser.
----------------------------------------------------------------------------------
Under certain circumstances, an advertised item may be out of stock. Please Call or Email for Availability. Please note that some watches are on memo or offered to us from other dealers.
Current Bid: $294995.0